HI Internet–it's been a while, eh?
Long story short –> Vermont, New Hampshire, Boston, Syracuse, back to Boston. Leaving for Florida in less than a week. (!) More on that later.
Yesterday I voyaged across Massachusetts to see dance haven and curatorial powerhouse Jacob's Pillow in real life. Long I have heard tell of this paradise in rolling hills of green, and so obviously I was excited to see it in person.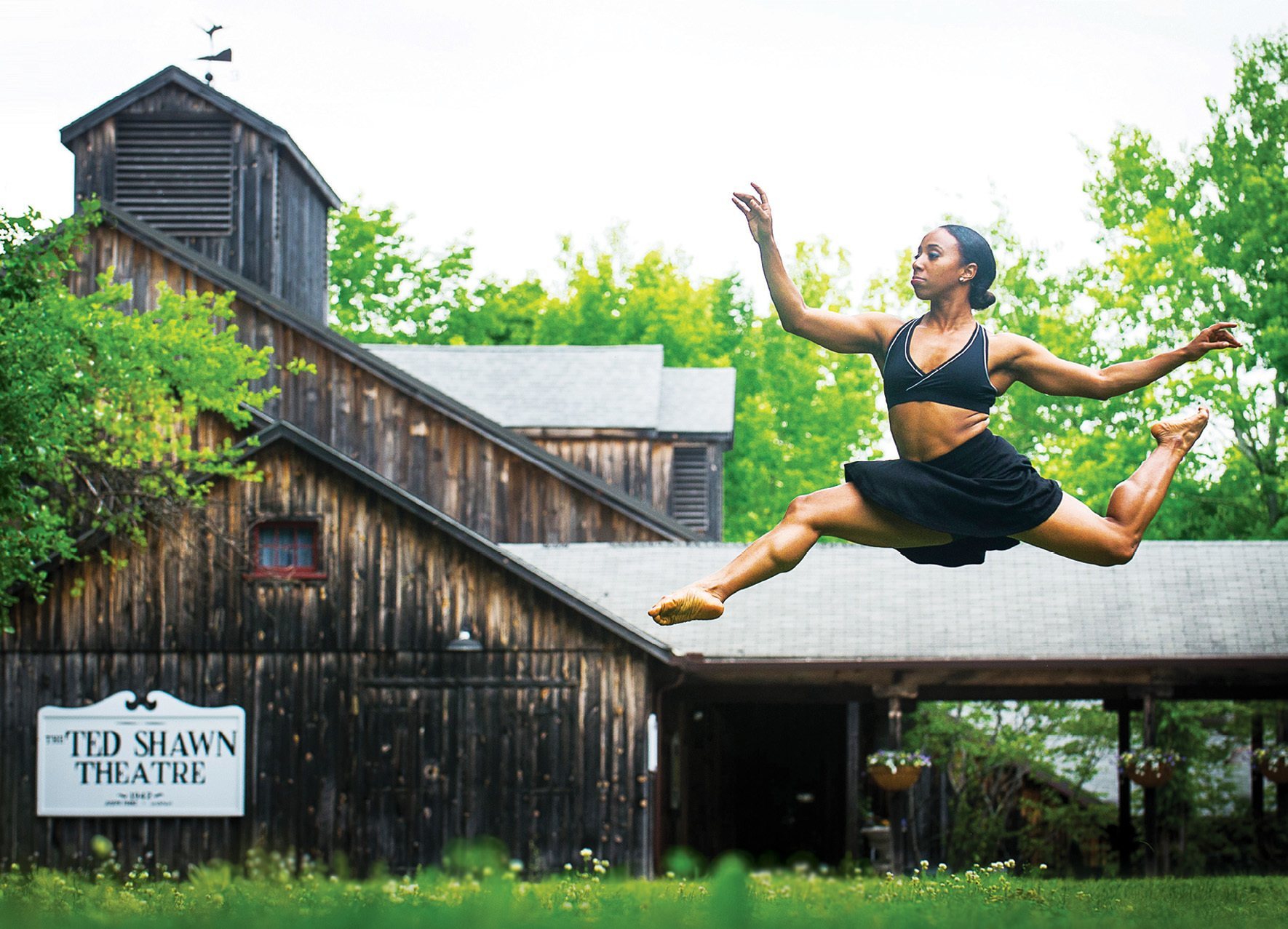 I am here to say that it lives up to the reputation. We had the luck to see two shows–Ballet Hispanico in the Ted Shawn Theater, pictured above, and Gemma Bond Dance on the Inside/Out stage due to a last-minute break in the rain.
First off–the Pillow itself is beautiful. The buildings are rustic but functional, the location remote yet accessible, and the hills sufficiently green for this Vermonter. The Ted Shawn Theater seats about 600 people and has that fantastic depth-to-length ratio coveted by dancers and basically no one else. The Inside/Out stage deceptive simplicity creates a one-of-a-kind vista.
Ballet Hispanico performed three pieces. The first, "El Beso",  by choereographer Gustavo Sansano was a humorous examination of the kiss. The vocabulary was contemporary, the music traditional Spanish, and the whole effect was musical and entertaining. The second piece, "Línea Recta" was pitched by Pillow Director Pamala Tatge as "Flamenco–but if they touched." My ballroom-influenced brain immediately snarked back so Paso Doble, then? But in reality, "Linea Recta" by Annabelle Ochoa blended Flamenco and ballet vocabulary to create a vivid and enticing world. The third piece, "Dazón" by Eduardo Vilaro was my least favorite of the bunch. Supposedly it was a meditation on and recapitulation of Cuban Social Dance, but it wasn't particularly musical. It also strayed a bit too close to Latin social dance that I personally know, without fully committing, which I mostly just found irritating.
After that fantastic show, we found some dinner, and then returned to the Pillow, hoping for a break in the rain or a ticket to studio for the free Inside/Out series. The rain stopped just minutes before the scheduled start, and after a bit of frantic toweling and shop-vac-ing from the Pillow interns, and we were all set to see Gemma Bond Dance. Gemma Bond is a Corps member of American Ballet Theater in NYC, and she is also forging her way as an emerging successful choreographer. She brought with her ten dancers from ABT to perform two pieces. The first "Then and Again" was a several-movement exploration of loss and neglect that I found particularly effective. The emotions were clear, and the vocabulary classical-with-a-twist. I watched, rapt, the entire work. The second work, "Depuis Le Jour" was less to my taste–a circular duet featuring a large circle skirt on the woman. Though it was much shorter, and the sun in the perfect place to create beautiful images, I found the movement less compelling. Still enjoyable overall!
And the cherry on top of this whole experience: I got to say hello to Devon! Devon Teuscher, ABT Principle extraordinaire and fellow alumna of Vermont Ballet Theater, was in "Then and Again". I've not seen her dance in person since she came back to Vermont to guest as the Sugar Plum Fairy, and it was a joy to see in person how much she's grown as a dancer.
All in all, the Pillow is a magical place. I'll be back.
Stay tuned for an exciting announcement soon!