Collegiate competitive ballroom is kind of a big deal. People travel hundreds of miles to these conventions of glitz, glamor, and sweat in order to show off their work, style, and costumes. And in April, they converge on Boston, MA to the Rockwell Cage in MIT for the largest college-hosted event on the Eastern seaboard. This past April 24th-26th, I took six members of the SU Ballroom Team to this very event. I personally didn't compete as my partner was out of town on business, but the rest of our little clan did.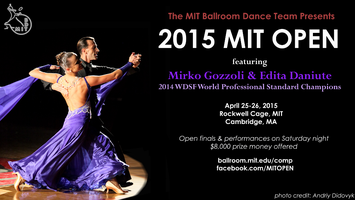 The amatur competition was fabulous as it gets, but really what I want to talk about was the professional showcase. Mirko Gozzoli and Edita Daniute, World Standard champions in both the WDC and WDSF, most recently in 2014 in Beijing. In Standard Ballroom–Waltz, Quickstep, Foxtrot, Tango, and Viennese Waltz, for those of you not in on the scene–they are as good as it gets these days. And as such, predictably, they were amazing. Standard Ballroom, even at the world levels, does not involve many tricks (dips, lifts, aerials, etc) and yet there is no question that they are dancers of the highest caliber. Clean, crisp lines, inventive music choices, and impeccable musicality.
My only complaint about their excellent show is minor and stems from my ballet background. I grew up dancing with my hair up and out of my face, and I will stay that way (for the most part) unless I lop it all off. Edita has long, gorgeous, curly blonde hair, and she wore it down for the show, tossing and whipping it about as part of the choreography. It drove me a little nuts, and I just wanted to hand her a hair tie and be like 'here…I fix…' But of course, that's just me, and if nothing else it was artfully done.
  Another of my ballet-dancer prejudices is that ballet dancers, are on average, more muscular and athletic than ballroom dancers. This sense is due in part to Standard dancers wearing fully-covering clothes, particularly the men in their long jackets and tail suits. So imagine my glee when they enter to perform their final dance, the Tango and Mirko emerges, completely shirtless. The man was like an anatomy model. Hot damn. That, combined with my close-up look at both dancers the following day during their workshop on foot placement, proved to me that the best Standard dancers in the world definitely have got their muscle on. Now, I don't believe they can jump, but you can't have everything…